New Start-Safety Boat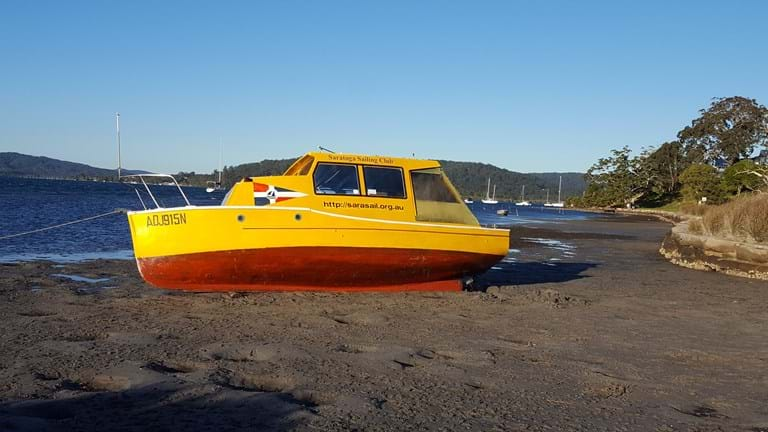 Why a Start / Safety boat
The sailing club takes safety and the welfare of members and others on the water seriously and is required to take adequate steps to ensure the safety of those on the water during club managed events. In more recent years liability issues and the compliance regime around running of racing and cruising events has become one of the most critical parts of the program. The start boat is essential for the proper operation of the club, safety and welfare of members and providing a rapid response to on water incidents.
Why is the project needed
The current wooden boat has been in use since the 1970's and is approaching the end of its life. Each year it costs more and more in maintenance from our limited budget to get it onto the water again to support the new sailing season. Without a start / safety boat, sailing activities will basically come to an end. Another reason why we need to replace this current vessel is that it is not powerful enough to fully assist in righting an overturned sailing boat when the occasion arises. A more powerful and stable vessel, made out of fibreglass, would be able to support our weekly sailing / racing activities for many years to come and ensure the continued growth of our small community sailing club.
After the clubhouse, the start / safety boat is the next most important item for any sailing club and without which there can be no racing. By upgrading this facility to a much more modern and powerful vessel, we as a club will be able to attract more sailors and non-sailors to join our club and participate in this engaging activity. Additionally, we will be better placed to attract and host sailing regattas, on behalf of different classes, both for NSW and Interstate.
The club has been steadily expanding its small craft fleet on water activities and has additional boats of all types requiring some monitoring and on water assistance. The club is now catering for off beach launched Hartley TS 16, Lasers, Dragon Boats and various other craft.
By replacing our ageing wooden start / safety boat with a more modern vessel we will not be subject to cancelling sailing activities due to breakdowns of the boat which of course affects all sailors engaged in weekend racing activities. It will also allow members to devote more time to other necessary activities around the club rather than fixing up issues, that now occur on a regular basis, with the motor for example.
Critical requirement
The start / safety boat is critical to the operations of the sailing club, setting courses, monitoring weather conditions, recording race times and when necessary participating in rescue/righting activities. By bringing in a newer, more reliable fibreglass vessel the club can look forward towards a successful rather than uncertain future, thereby benefitting all current and would be sailors at the club. We want to spend less time and money on maintenance and more time on sailing activities and the acquisition of such a vessel (example link provided) would allow us to do just this.
Design requirements
Up to 10 Metres
Engine capacity 30hp+
Diesel inboard preferred
Capacity for three to four crew
Draft < 1 Metre
Displacement > 1000Kg
Speed capability 8-12kts
Material Fibreglass or lightweight Alloy
Boarding area
Galley area
Stern open area for race starts
Our ideal boat
Our ideal boat is along the lines of a Roberts Longboat (LOA: 21' / LWL: 18'6" / Beam: 8' / Draft: 2' / Approximate displacement 1,750 KGS). The pictures below are courtesy of boatsales.com.au (the original advert may be available here - [You will be leaving our website and we are not associated with nor responsible for any material presented on the hyperlinked site. Images provided are examples only and not owned by us and could be subject to the copyright of respective owners]).
The Roberts Longboat is described by the advertiser as follows:
"Blue Bird" was launched in March 2004 having been professionally built and has been with the same owner for the majority of her life. With a cruising speed of 6 knots using approximately 2 lts / hour a days outing would be most economical.
Powered by a 31 hp FWC Sole 4 cylinder diesel engine, shaft drive swinging a 3 blade propeller, sleeps 3, lockable cabin, 2 burner metho stove, solar shower, enclosed toilet, 27 lts of fuel, 60 lts of water, 2 x electric bilge pumps, twin batteries, 27 meg radio, Navman sounder, CD player, 12 volt lighting, life jackets, life ring, 2 x fire extinguishers, marlin board, boarding ladder, full cockpit covers, antifouled in September 2017 etc, etc.'
Next steps
A new vessel will require assisted funding. It needs to be painted at least part in yellow, and additional minor works to accommodate race starting equipment including a countdown timer and flag poles and provision towing cleats if required. We would hope to be in a position to purchase a suitable craft before the start of the new season in October.